TaylorMade R15 460cc Driver
Short Description
The TaylorMade R15 (460cc) driver is the most technically advanced driver that TaylorMade have ever produced and the reason for that is that they have been able to feature and put together a number of technologies from previous drivers.
The new R15 driver features a lower more forward centre of gravity (CG) that promotes a higher ball launch and lower spin rate to increase your overall carry off the tee. The Loft Up scenario apply to the new TaylorMade R15 (460cc) driver, with the lower more forward CG you need to Loft Up to get the correct specs to suit your golf swing.
The TaylorMade R15 driver features a new Front Rail System which doubles as a SpeedPocket, the new Front Rail System allows you to reduce spin, increase the size of the sweetspot or alter the shape of your drives. The SpeedPocket has allowed TaylorMade to give the R15 an extremely thin face for extreme ball speeds and also stretching the sweetspot for even more forgiveness.
To ensure that you are able to get the right launch angles to maximise distance TaylorMade have added their new 4° loft sleeve. The loft sleeve allows you to adjust the loft of the new R15 2° either way. Once you have done that and set the club up in the specs that you need you then have the Fujikura Speeder 57 Evolution fitted as standard to give you the best of distance, control and feel.
Product Features
460cc Head – Maximum amount of forgiveness
Low Forward Centre of Gravity – For a higher launch and lower spinning flight
Front Rail System – Allows you to increase the sweetspot and alter the flight of the golf ball
SpeedPocket – Increases the flexibility of the face and increases the sweetspot
Loft Sleeve – Allows you to change the loft by 4° in total, either 2° up or down
LOW/FORWARD CG

---
MOVABLE WEIGHT ADJUSTMENT

---
FRONT TRACK SYSTEM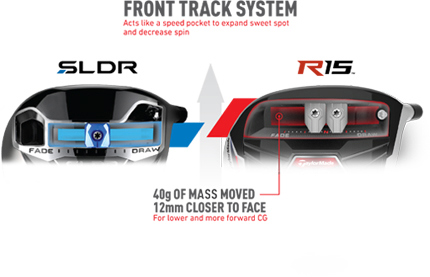 ---
Specifications:
| Head | Loft | LH | Lie | Volume | Length | SW |
| --- | --- | --- | --- | --- | --- | --- |
| R15 Driver |  9.5° |  Yes | 57°-61° | 460cc | 45.5″ | D4 |
| R15 Driver |  10.5° |  Yes | 57°-61° | 460cc | 45.5″ | D4 |
| R15 Driver |  12° |  Yes | 57°-61° | 460cc | 45.5″ | D4 |
| R15 Driver |  14° |  Yes | 57°-61° | 460cc | 45.5″ | D4 |
Shaft:Fuji Speeder 57 Evolution- Stiff, Regular, Mature (Senior)
Grip: Lamkin UTX