Kalea 2023 Women's golf clubs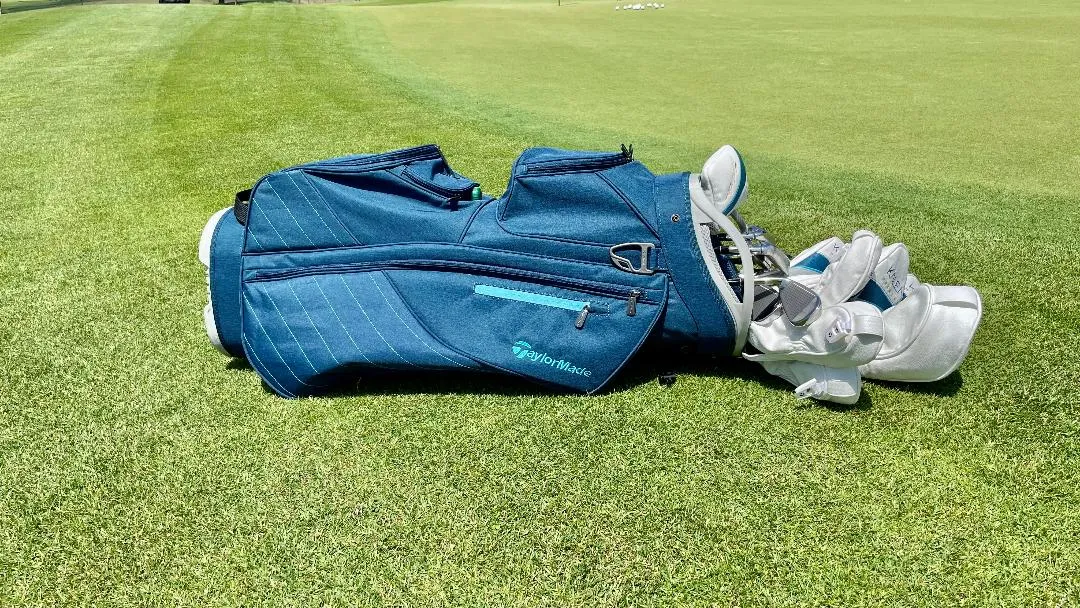 The TaylorMade Kalea Premier is the newest women's golf set, intentionally engineered for lightweight speed, easy launch, and maximum forgiveness. These clubs are made to deliver clutch putts, precise long irons, and big drives off the tee. Each club is backed by Tour-proven technology and fully fashioned to build a set that matches your game.
The Tech
It's important to point out that there is more technology in these clubs than ever before, mirroring much of the same tech seen in the TaylorMade SIM2 range – so unfortunately there's no red carbon face like in the Stealth driver.
Breaking down the set, the following technologies can be found:
Kalea Premier Driver – The Kalea Premier driver is built for speed and forgiveness and comes at standard in 12.5 degrees with a carbon crown and carbon sole, as well as a 22g steel rear back weight. Moving the Inertia Generator towards the heel encourages optimal launch and spin rates, providing more distance for those with slower swing speeds.
Kalea Premier Fairways – The fairways are designed to be easier to launch and come with a 37% larger face than the Kalea 3. Each loft option has the same size head and comes with V Steel technology to improve forgiveness, versatility and turf interaction.
Kalea Premier Rescue – The rescue again has a V Steel sole design which helps to produce high launching shots from any lie. The face is the largest of the Kalea generations with low CG, adding forgiveness.
Kalea Premier Irons – A Cap Back Design provides extra stability in the topline and upper perimeter of the face, working alongside the Speed Pocket to improve face flexibility, ball speed and distance. They also feature Inverted Cone Technology which varies face thickness and pinpoints performance where golfers need it the most, making way for an optimised sweet spot that covers the most common impact areas. The head shaping has been uniquely designed to create the forgiveness of a super-game improvement iron, in a sleeker profile.
Spider Mini Putter – The putter that comes available with the Kalea Premier set is a modern Mini Spider which provides all of the stability and forgiveness of a Spider putter but in a 15% more compact shape. It comes with Pure Roll face technology and a long single sightline.
The light green and white colourway of Kalea 3 has been replaced by a premium and strong blue, white and grey colour scheme. If you are Scottish you are going to love the look of these clubs!
The build quality of these clubs has jumped back up to the kind of level that you'd expect from TaylorMade. The clubs essentially look like a version of the SIM2 Max range with a lighter and short shaft.
Straight off the bat, we think it's a real step in the right direction in looks and technology compared to last year's Kalea.
The modern golfer has a huge choice when it comes to a Golf Bag and they need to make a decision about which style they require. This article should help them make a more informed choice about which bag to have.
Tour/Staff Golf Bag
These bags are generally used by the tour players and professionals that you see on the TV however we are finding that a lot of amateurs like to use the same style. The benefit of this style of bag is the size. You can easily find your clubs and accessories in your bag and you will be able to fit everything but the kitchen sink into this style Golf Bag.
Strangely enough the caddies that carry these bags for the tour pro will tend to carry these but we would not advise this and would always suggest you have a trolley.
Cart/Trolley Golf Bag
This style of bag is generally bigger than the norm and fits perfectly onto a trolley. The modern style cart or trolley bag tends to have all of the pockets facing forwards and they will also have quite a few dividers on the top of the bag for ease of finding your clubs.
If you have an electric trolley like a Motocaddy or a Powakaddy we would recommend that you get the matching bag as they have a small groove on the base of the bag that keeps the bag securely in place.
Make sure you get a bag as big as possible as the smaller cart bags tend to get a bit tight for a full set of equipment. All trolley bags come with a rain cover and the majority will still have a single strap to carry if needs be.
Stand Carry Golf Bag
The modern carry bag is bigger that it used to be as they have been designed to fit the body nicely. In the main they are fitted with a dual strap which allows the bag to be carried like a rucksack which is far more comfortable than a single strap.
You can get bags with plenty of space and lots of pockets but do be careful not to fill the bag too much as this just adds weight to your back.
You can still put the majority of carry bags onto a trolley but they do not fit that well so we would suggest you have two bags if you are prone to alternate between the two.
Many carry bags will have a stand to keep the bag upright and our experience shows that the more expensive the bag the better the strap system is and the stand. Cheap bags are not always good value.
These are the smallest of bags but are gaining in popularity. These small style pencil bags are great in the winter time when some clubs do not allow trolleys. They are very lightweight and some can even carry a full set. You cannot put too much in the pockets of these but this is great as it keeps the weight down.
Whether you are trying to get out of a bunker, or looking to successfully tackle your short game, golf wedges offer you maximum control, making them a vital component in your arsenal of clubs. It is important to make sure that you have a decent set of wedges in your bag as these are usually the clubs you will use around the green. They can often determine whether you get up and down in two to save par, or whether you will make bogey.
Most sets carry a pitching wedge (normally 45°- 50°) and sand wedge (normally 54 – 58°). Here you will find a full range of wedges, including Gap Wedges (normally 50-54°) and Lob Wedges (normally 58-64°), all available to help ensure you're able to handle the various scenarios you could be faced with during a round.
SHOP WEDGES HERE!
An ideal time to use a chipper would be when you are just off the green, but not in high grass. You can play a chipper in the same way you would play a putter but the small amount of loft on the club means you are able to lift the ball past any hazards that might be lying between you and the hole.
SHOP CHIPPERS HERE!
At GolfLife Shop we stock a wide range of branded wedges and chippers to suit all golfing abilities.
---
Wedges Are About Control And Feel
To get the best results, it is desirable to get a set of wedges that complement each other, as you do when you buy fairway woods or irons. This usually gives you clubs with similar feel that are designed to cover distance gaps.
Wedges have really come a long way for the club golfer in the last few years, and many options are available to you to make sure that you can tailor your set of wedges to your playing style.
One thing to note about wedges is that, like irons, they are about control rather than distance. You should not be dissuaded from buying wedges because they do not have cavity back heads. On the contrary, wedges give a much superior feel when they have a traditional blade shape which helps when trying to develop touch around the greens.
---
Wedge Aesthetics
There are several different finishes available for your wedges; mostly it is down to personal preference which you buy. Satin and gun metal finishes reduce glare from the sun.
Chrome gives a classy shine to your wedges, and some types, like oil-can finish, make the metal rust slowly over time to give the wedge better spin with time.
---
Pitching And Gap Wedges
Pitching wedges – are a great club to consider for chipping around the greens. The low loft gets the ball rolling nice and quickly compared to the other wedges. They also cover the 90-110 yard range for most average golfers.
Most iron sets come with a pitching wedge so you need to decide if you really need one. If you decide that you like to use the PW around the greens you should definitely go for a blade pitching wedge for more feel.
Gap wedges (50-54 degrees) – If you find that you are often stuck between a sandwedge and pitching wedge, you may not have to change your swing to hit the distance you want. With a gap wedge you have a club that fills in this gap and is also a useful chipping and pitching club.
---
Sand Wedges And Bounce
The Sand Wedge – usually has a high bounce as this allows the club to glide through the sand at just the right level to take enough sand to get under the ball but not too much to dig in too far.
Many people are now using lob wedges with high bounce from bunkers now, which is equally good, but you should be aware that high bounce clubs are less suited to other types of shots. A low bounce club is very useful from tight lies like hardpan or hard fairways. It allows the club to get under the ball without hitting the ground and bouncing into the back of the ball.
Low bounce is especially useful when you want to open up the face of the wedge to hit a more lofted shot. When this is done with a high bounce club, it makes it all but impossible to get under the ball.
---
Lob Wedges And X Lob Wedges
Lob wedges typically range from 58-62 degrees of loft and are essential for hitting high flop shots around the green. A good lob wedge can really bring excitement to your game when you encounter a tricky shot. With many of the new wedges with square grooves you will also notice dramatic spin with these clubs, provided you use a suitable ball.
X lob wedge – This is a wedge with a very high loft (62+ degrees). These can be useful to hit the ball very high and land softly around the green. They can be very useful if you find it difficult to get the ball high in the air on pitches and chips, but they do not hit the ball very far on full shots at around 50-60 yards at the most.
---
Chippers
Using wedges and irons to chip around the green can be very frustrating at first. When you lose confidence in your stroke and do not follow through on your shot, it is common to see high handicap players hitting the ball heavy (when you hit the ground first and the ball ends up very short of your target).
Chippers, as the name suggests, are used predominantly by players who struggle with their greenside chipping.
With a conventional grip they can be used like an iron or putter, and come at a length slightly longer than a putter. They are not designed for a full swing and only for the chips around the green. They have the loft of a wedge and a smooth base so they can pop the ball up in the air and onto the green without the worry of sticking in the grass.
Some chippers are available which allow you to use both sides of the club, which is useful if you get stuck on the wrong side of a tree and can not play your shot on your preferred side.
Be warned though, as double sided chippers are not permitted in competition as stipulated by the R&A, although you could use it in an informal round.
If you really struggle with chipping around the green then you should consider these as a viable option, otherwise you should probably go for a range of wedges with varying lofts and bounce options.
Although wedges are more difficult to use for some, they are far more versatile and they will be a club you will want to be able to use to improve your game.
Want to achieve explosive distance off the tee? How about fine-tuned control on the green? There's some serious technology packed into your golf ball, and you can learn to use it to your advantage with this golf ball buying guide.
THE ANATOMY OF THE GOLF BALL
What makes a golf ball fly? What determines how far it travels, or how much it spins? For a better understanding of a golf ball's performance, start with an overview of its anatomy: core, cover and dimples.
Core: The core is the power center of the golf ball and can have substantial influence over spin rate, initial velocity and, in particular, compression. A ball's compression rating is the measurement of how much a ball will compress against a clubface on impact.

Compression ratings of more than 100 are appropriate for golfers with high swing speeds who can carry drives more than 140 feet in the air. Golfers with slower swing speeds should consider a ball with a compression rating below 90.

Cover: There are two main types of golf ball covers: Surlyn and urethane. Introduced in the 1960s, Surlyn is an ionomer resin that's harder and more durable than urethane. However, it doesn't provide much backspin, which can be a drawback for low-handicap golfers. Surlyn-covered golf balls can be a great choice for beginners.

Urethane is softer and generally offers higher spin and improved control. Though softer than Surlyn, skilled golfers often prefer urethane for its shot-shaping potential.
Dimples: Your golf ball is covered with small indentations, known as dimples, which are designed to both reduce drag and control ball trajectory. They may seem simple, but you shouldn't overlook their importance, considering a smooth-surface golf ball would travel only half as far as one with dimples.

Dimple patterns vary depending on the manufacturer and the type of ball you're playing. The total number of dimples, as well as their shape, size and depth, can impact the way the ball performs in flight. Most golf balls have between 300–400 dimples.
GOLF BALL CONSTRUCTION
A key consideration when choosing a golf ball is the number of pieces in its construction. There are two main options: two-piece golf balls and multi-layer golf balls.
Two-piece golf balls are simply made up of the core and cover. These balls are a great choice for beginners and golfers with a high handicap. This design's large core also promotes distance while helping to reduce hooks and slices off the tee, which are common issues for newer players.

The covers on two-piece balls are typically thick and durable to help extend the life of the ball. This is an important feature if you find yourself making frequent contact with hard surfaces like cart paths, trees, etc.
Multi-layer golf balls are designed for experienced players. These balls have additional layers between the cover and core to help elevate control, feel and shot sculpting. They also have a thin cover to help further enhance spin control and feel.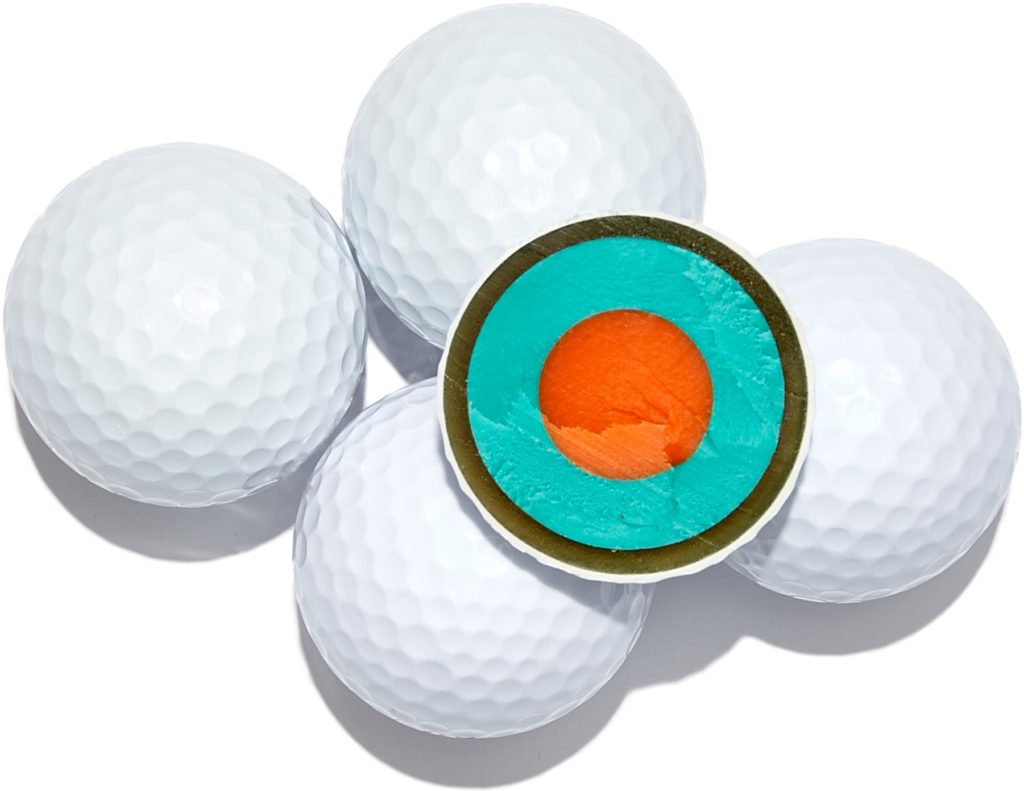 TYPES OF GOLF BALLS
You now know about the anatomy and construction, but you're probably still asking, "What is the best golf ball for me?" Well, you can find the right fit for your game by learning more about the different categories of golf balls from which to choose.
Tour Performance: These multi-layer golf balls are designed for experienced, mid- to low-handicappers. The series of core and mantle layers help enhance control and feel, allowing golfers to sculpt shots and create added spin around the green. The thinner cover construction can further enhance spin control while providing the crisp feel serious golfers demand.

Soft Feel: Soft feel is often synonymous with low compression. Low compression can allow for more deformation of the ball at impact, which can reduce spin and translate to straighter, longer flight on low-lofted clubs. The prolonged contact on short irons and wedges can result in softer feel.

Distance: Featuring a firmer cover and multi-layer design, distance balls feature a larger center core to help support maximum carry while minimizing the spin that exaggerates slices and hooks.
After doing all the hard work of getting from tee to green, the last thing you want to do is needlessly throw any shots away. Given the delicacy, touch and feel that putting requires, being able to select the club which best suits your game could really help take strokes off your round. However, get it wrong and you could be left cursing your failure to sink those tricky four-footers.
Around 50 percent of your shots on a golf course will be made with the putter, and it is for this reason that technology is advancing the performance of these clubs. Whatever you are after, here at GolfLife Shop we stock a wide range of golf putters from some of the biggest manufacturers in the game – Taylormade and Cleveland.
Face and Toe-Balanced Putters
One of the first things to choose between is whether you want a face or toe-balanced putter.
Face-balanced putters are ideal for golfers who have a stroke which goes back and through, as the centre of gravity is directly below the axis of the shaft. This enables the club stroke to straighten on the forward motion.
On the other hand, a toe-balanced putter might suit those with an out to in stroke, as the centre of gravity is not found below the axis of the shaft.
You can tell these two clubs apart by balancing the shaft on your finger, with the face facing upwards for a face-balanced putter, and the toe pointing to the ground for a toe-balanced putter.
Putter Shafts
Putter shafts are always made of steel so you can get the maximum touch and feel while on the green.
You could choose between a heel-shafted, centre-shafted or offset putter depending on your preference for using the head or hosel to guide the ball into the hole.
Shaft length is another important decision to make when choosing your putter. You can choose between traditional lengths, which range between 32 and 36 inches.
Putter Head Design
The design of your putter head has much to do with your stroke and it is important to get it right when making your decision.
Blade putters bring back images of yesteryear and are the most traditional type of putter, ideal for both the beginner and the experienced golfer.
Mallet putters are heavier and are blessed with a lower and deeper centre of gravity, which should reduce backspin when you putt. While weighted golf putters suit those players who have an in to out stroke.
Faces and Inserts
The final part of the putting jigsaw is selecting what type of face or insert you require. This will all depend on the type of ball that you are using, along with the speed of the greens you are playing on. For example, you will probably want a different putter for October in the UK than you would for Portugal in July.
It is all about trying to find a club with the right feel for your style and surroundings, therefore testing out whether you want a metal, insert or groove-faced putter will go a long way in helping your quest to be king or queen of the greens.
SRIXON®, a global leader in golf equipment technology and innovation, is delighted to announce that the company has signed a partnership to be the Official Ball Partner of The European Disabled Golf Association (EDGA) for the next 3 years.
EDGA is a not-for-profit volunteer-based association of the National Golf Federations from 34 countries worldwide. The association is focused on boosting awareness of the inclusive nature of golf, developing capacity within the golf industry, and providing opportunities for golfers with a disability throughout the player pathway.
Commenting on the announcement, Srixon Sports Europe's, Head of Marketing, Benjamin Routhier said, "We are thrilled to partner with EDGA and further strengthen our commitment to driving golf inclusivity right across Europe. We were already supporting a number of disabled players from different countries, so naturally we wanted to develop our involvement and support the association as a whole for the next three years.
EDGA does an incredible job, as evidenced by the launch earlier this year of the G4D Tour in association with the DP World Tour. As a brand, we will not only commit to a financial package, but we will schedule Srixon ball educational days for the EDGA pass holders throughout the 2022 season and beyond. We look forward to organising our first ball days and helping disabled golfers to reach another level in their performance."
In addition to the G4D Tour and part of its focus on growing the game, EDGA designs and implements education programmes for delivery in rehabilitation centres, hospitals and golf clubs. All these initiatives are available to the members of EDGA, as are protocols for tournament administration, definitions of impairment and other programmes which are designed to grow the number of golfers with disability around the world.
"We are thrilled to welcome Srixon Sports Europe to the EDGA family. Srixon has been at the very cutting edge of golf ball technology and production for years, and to have them as our official ball is fantastic. EDGA players will be able to take advantage of the advice and education available from ball fitters in just the same way that some of the world's leading professionals do so that they can maximise their performance," said, Scott Bennett, Head of Communication & Marketing at EDGA.
For further information on EDGA visit www.edgagolf.com